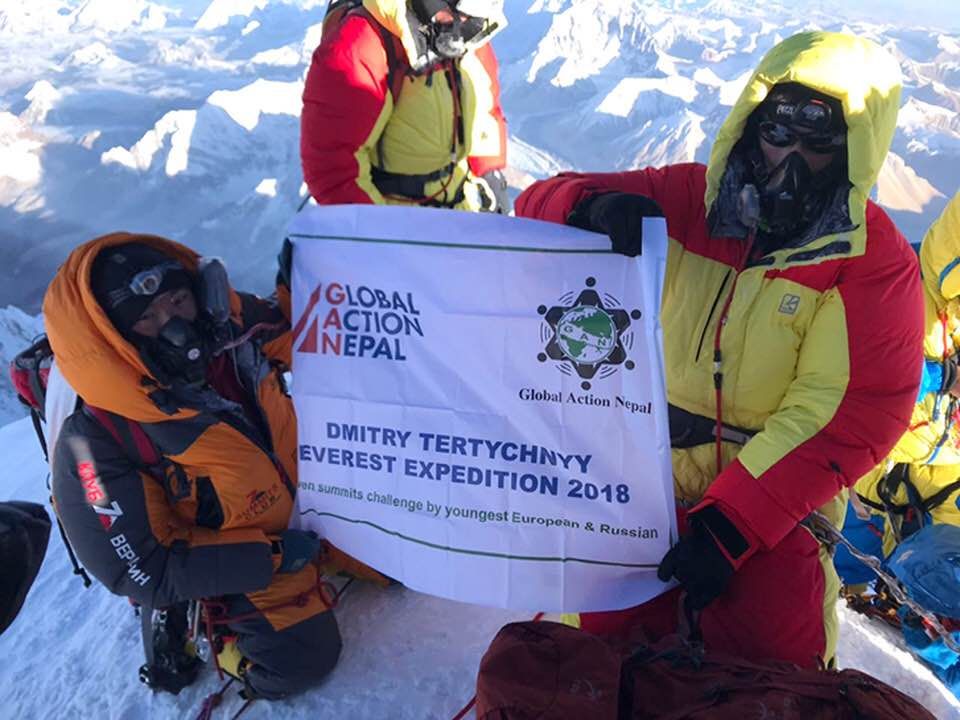 Photo Credit: Dmitry Tertychnyy
Charterhouse Pupil on Top of the World
On 17th May 2018 Dmitry Tertychnyy, a sixth-form student at Charterhouse School and GAN Youth Ambassador, made a successful ascent of Mount Everest - the last peak in the Seven Summits challenge he and his father had set themselves. At 17 years of age, Dmitry is the youngest Russian to complete the Seven Summits challenge, which involves climbing the highest mountain on all seven continents: Aconcagua in South America (6961m), Denali in North America (6190m), Kilimanjaro in Africa (5895m), Elbrus in Europe (5642m), Vinson Massif in Antarctica (4892m) and Carstensz Pyramid in Australia (4884m) and Mount Everest in Asia (8848m).

Dmitry started climbing in 2014, at the age of 13. On his first attempt at Kilimanjaro, he was forced to turn back at 5720m, only 15 minutes from the summit, due to acute mountain sickness. Less than five years later, he and his father have successfully climbed all of the Seven Summits.

As if the extraordinary physical and mental challenge of climbing Everest wasn't enough, Dmitry decided he would like to use the final climb of his Seven Summits challenge as an opportunity to raise money for Global Action Nepal, a charity close to the heart of Charterhouse pupils and staff. In 2016, pupils and teachers at Charterhouse School raised over £6,500 for Global Action Nepal which was used to support educational programmes in schools in the Kathmandu Valley.

Dmitry told us "As this is an expedition that happens once in a lifetime, I want to make it special." Dmitry has certainly done that – although he is on his way down now, his fundraising page is still climbing. If you would like to support Dmitry's fundraising efforts, please click here.

Chris Sowton, founder and trustee of Global Action Nepal said "Dmitry has done an amazing thing at such a young age, and I congratulate him warmly. That he has managed to raise £2,000 for educational projects in Nepal is also fantastic."

Babu Kaji Shrestha, GAN's Nepal Director, who met with Dmitry in Kathmandu before he set off, had this to say "Dmitry, you are an inspiration to youths around the world, and we are proud to have you as our goodwill Ambassador."

In climbing Everest, Dmitry has followed in the footsteps of former Charterhouse teacher, George Mallory, who was part of the first three Everest expeditions in the 1920s.

Dmitry has been keeping a mountain blog on Instagram: @mountaineersdream

YouTube video of Dmitry at the summit of Mount Everest here.